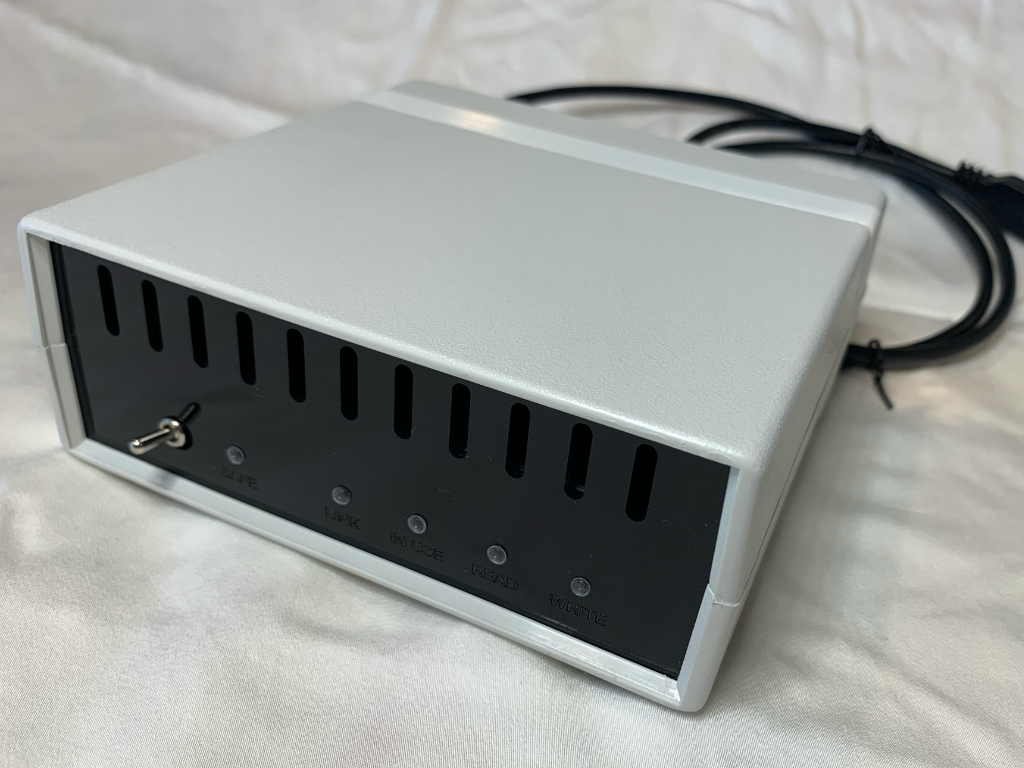 Floppy Drive Controller – $285
This is the primary interface unit. There are 3 drive connections on the unit: a 20-pin Apple Disk II-compatible, a DB-19 for Apple compatible 5.25″ and 3.5″ drives, and a Shugart-compatible 34-pin port for 5.25″ and 3.5″ PC drives. At the other end is a USB A connector for plugging into your computer.
All the important bits are contained safely within a durable case with lots of blinking lights.
For additional details, see All About Applesauce.
---
Upgrade Kit – $125
If you own an earlier revision of Applesauce, then this kit will provide you with the components needed to upgrade to the newest technology.
Please note that the new boards use a +12V AC/DC Adapter instead of the +16V that was used with previous models. Power adapter as well as cables for connecting PC drives are sold separately.
Real Talk: Upgrading your Applesauce gives you the ability to connect to 34-pin PC Floppy Drives. If you don't need to do this, then there is no real benefit to upgrading. The earlier hardware revisions will continue to be supported 100%.
---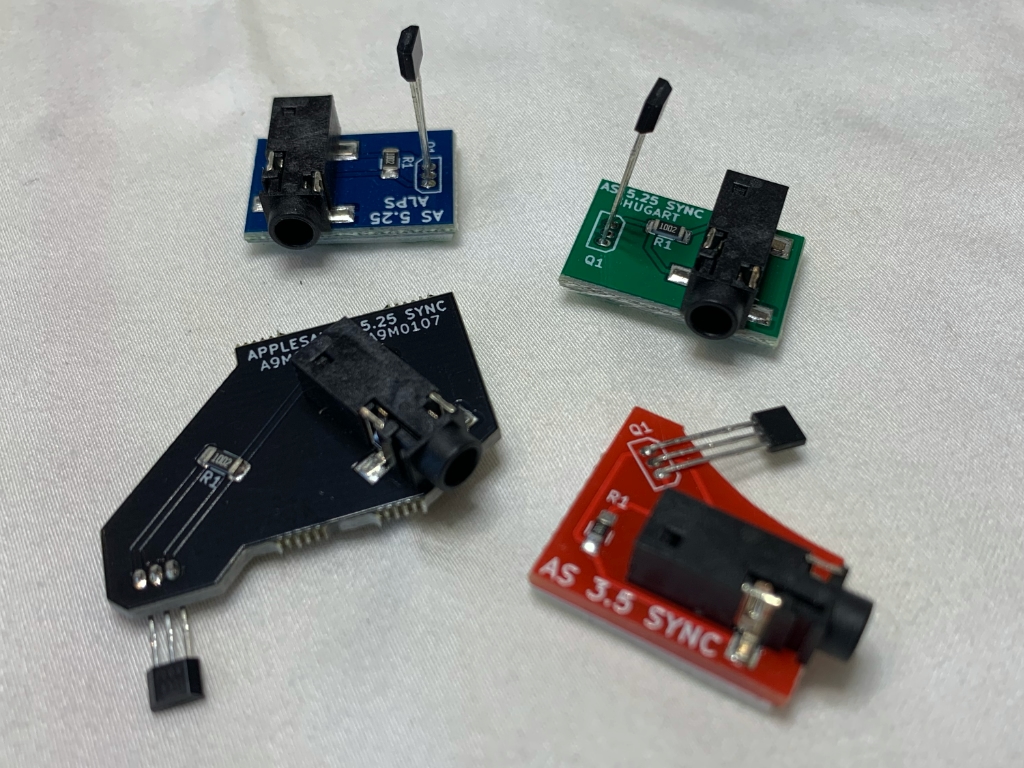 Sync Sensor Kits – $11
Sync Sensors are required to be installed within Apple-compatible 5.25 drives when flux imaging. Also very strongly recommended to be installed within Apple 3.5 drives. The sensors are used to provide a synchronization signal for floppy drives that do not contain index sensors (PC Drives do not need a sync sensor).
There are 4 different sensor kits for different drive models and configurations.
Kits contain a single sensor, a 3′ (900mm) signal cable, and an adhesive magnet.
For additional details, see All About Sync Sensors.
---
PC Drive Cable Kit – $15
A set of cables for connecting a PC 5.25 or 3.5 drive to your Applesauce (rev 2 or higher). These cables have been custom manufactured specifically for Applesauce. The cables are roughly 17 inches (430mm) long.
The power cable connects up to the 20-pin connector on the Applesauce and provides +12V and +5V to drives via the standard large (Molex) and small (Berg) 4-pin connectors.
The data cable is a normal 34-pin drive data cable that has connections for both card-edge and IDC.
Please note that only one floppy drive can be connected up to the Applesauce at any time. Even though there are 2 connectors on these cables, only one set should be used.
---
Naked Mac Drive Adapter – $18
This adapter will allow you to connect bare (internal) Mac drives to your Applesauce without needing to use an A9M0106 drive enclosure.
It is compatible with the following drive mechanisms:
Sony MFD-51W (800K)
Sony MP-F75W (SuperDrive)
Do not attempt to connect up a 400K drive as bad things can happen!
---
AC/DC Adapter – $18
These adapters have been tested extensively with Applesauce and have proven to be a great way to power your unit. I resell them here as a convenience, but feel free to use your own adapter if it meets the same specifications.
Model: CUI SWI24-12-N-P5
Input: 100-240V AC 50-60Hz
Output: +12V DC 2A (24W)
Plug: Center Positive – 5.5mm x 2.1mm x 9.5mm
Also available from Digi-Key or Mouser.
The new revision 2 Applesauce units use a +12V power adapter vs the previous +16V one used for earlier revisions. The +16V one is NOT compatible with new revision units. This change was done to enable people around the world to more easily find power adapters suitable for their region.
---
Deluxe Case Panels – $15
A huge improvement over the original acrylic case panels. These new panels are made from durable FR-4 PCB material and include white silkscreen legends in order to be much more readable than the originals. And for a bit of extra bling, the logo on the front of the case is gold-plated.
These replacement panels are only compatible with revision 2 Applesauce units with the 34-pin PC Drive connection.
---
Power Tap – $3
Are you doing some kind of crazy experimentation and need to make a custom power cable?
Here is a short cut if you want to tap into the Applesauce power output directly. Provides easy access to the +5V, +12V, and -12V lines. You need to solder the connector to the PCB yourself. Supports up to 18ga wire.
Maximum Load
+5V 1.5A
+12V 1.5A
-12V 100mA
1.5A Total
This is not needed by most users.